Retailers
Our current retail partners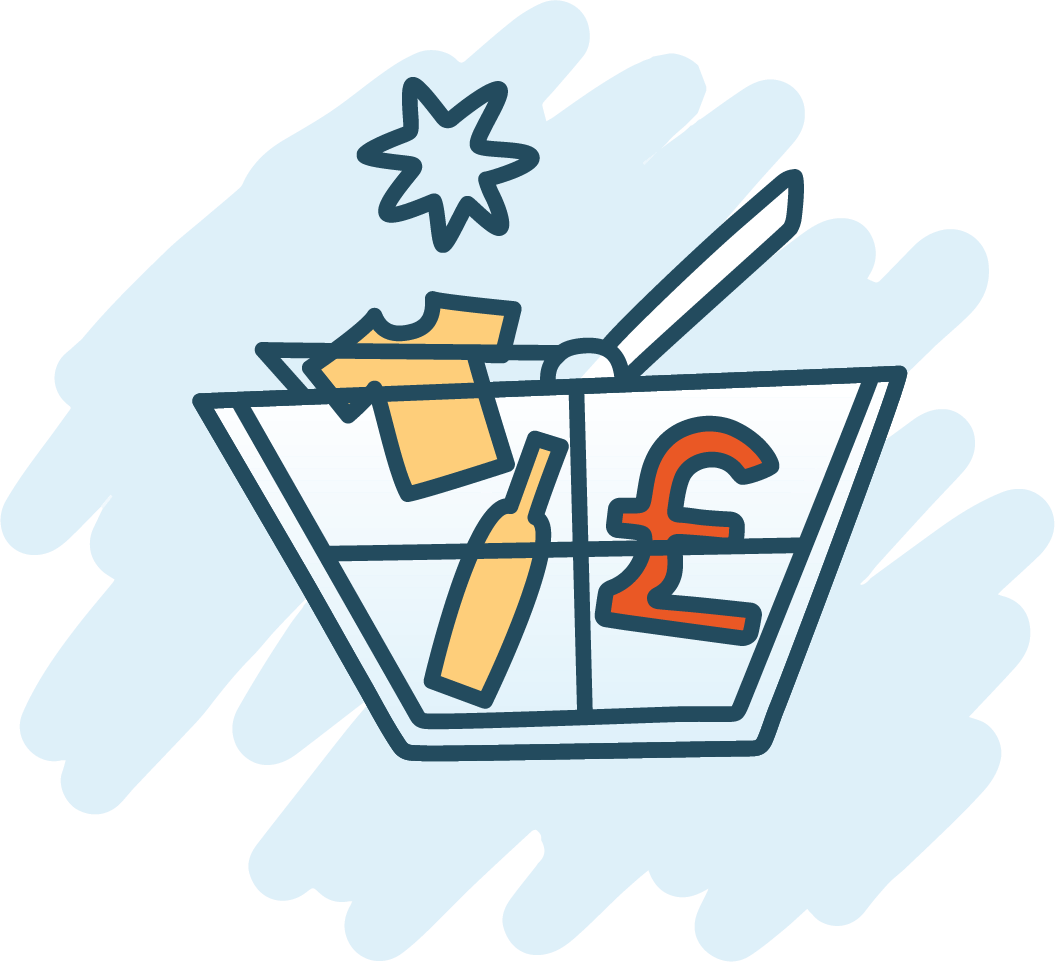 Last updated: 27th January 2022
Every penny of the retail cashback commission we collect is used to build your Mortgage Rewards overpayment balance.
Retailers regularly update their cashback amounts, along with the criteria for qualifying purchases, and we aim to track these changes in order to give our users an accurate idea of what cashback amount they can expect to receive.
However, please keep in mind that we cannot guarantee the information on this page is 100% up to date and this could therefore result in slightly different cashback amounts being received (sometimes for the better!)
Some retailers may exclude the VAT part of a purchase from the amount eligible for cashback, and using a voucher code, promotional code or gift card when making a purchase may result in a reduced amount of cashback being awarded (or even make it ineligible for cashback altogether). Shipping costs are also likely to be removed from the amount eligible for cashback. Also, please note that if you redirect to an app after clicking one of our links, your purchase may not be tracked.
*Due to the current Coronavirus crisis, we're seeing a number of retailers having to react quickly to the ever changing situation they find themselves in, which is resulting in a higher than usual amount of cashback rate updates. A small number of retailers have even had to 'pause' their cashback offers, although we're confident this is just a temporary measure. We are trying as hard as we can to make sure that we capture these updates and reflect the changes accurately, but please keep this in mind as you use our service. Thank you!
Acer
American Golf
Balls & Accessories: 2%
Clothing & Shoes: 5%
Clubs: 3%
GPS, Bags & Equipment: 4%      
Other: 3%
AO
Range cookers, Washer dryers, Washing machines, Tumble dryers, American fridge freezers, Cookers, Cooker hoods, Hobs, Ovens, Dishwashers, Dryers, Fridge freezers, Refrigerators & Freezers: 2.5%
Gaming consoles, Games, Gaming hardware, Gaming accessories: 0.5%
Everything else: 1%
ASOS
New customers: 6%
Existing customers: 3%
Mobile app users: 1%
B & Q
Balance Box
Base
Electronics (excluding Video game consoles): 2%
CD, DVD, Blu-ray, UMD, HD-DVD and idVeo games: 2%
Other: 1%
Beer Hawk
New customers: 7%
Existing customers: 3%
Bloom & Wild
New customers: 10%
Existing customers: 5%
Boden
New customers: 8%
Existing customers: 3%
boohooMAN
Boots
Health: New customers 5% / Existing customers 2%
Premium beauty & Baby: New customers 4% / Existing customers 2%
Fragrance, Gifts, Electrical beauty, Toiletries, Toys & Games: New customers 3% / Existing customers 2%
Photo: New customers 2% / Existing customers 1%
Other: New customers 2% / Existing customers 2%
Braun
New customers: 6%
Existing customers: 4%
BT
Broadband package: £25
TV package: £20
Landline calls package: £7
12 month mobile SIM only, 0GB - 2.9GB plan: £15
12 month mobile SIM only, 3GB - 5.9GB plan: £25
12 month mobile SIM only, 6GB - 14.9GB plan: £35
12 month mobile SIM only, 15GB+ plan: £45
24 month mobile handset, 500MB - 1GB plan: £15
24 month mobile handset, 3GB plan: £25
24 month mobile handset, 6GB plan: £35
24 month mobile handset, 15GB - 30GB plan: £45
*New customers only
Bulk
New customers: 8%
Existing customers: 6%
Burton
Buyagift
Cellar Wine Shop
Charlotte Tilbury
Chemist Direct
Clarks
Click Marketplace
Cotton Traders
Currys PC World
Deskmate
Dorothy Perkins
New purchases: 6%
Existing customers: 2%
Dulux
Dusk
New customers: 6%
Existing customers: 4%
eBay
Business & Industrial: 1%
Art & Antiques, Coins & Paper Money, Crafts, Dolls & Bears, Entertainment Memorabilia, Miscellaenous Collectibles, Pottery & Glass, Sports & Leisure, Stamps, Toys, Hobbies, Games: 1.2%
Cameras & Photo, Cell Phones & Accessories, TV, Video & Audio, Video Games & Consoles: 0.8%
Computers, Tablets & Networking: 0.6%
Clothing, Shoes & Accessories, Health & Beauty, Jewellery & Watches: 1.6%
Alcohol & Food, Appliances, Baby, Miscellaneous Home & Garden, Pet Supplies: 1.2%
Gift Cards & Coupons, Miscellaneous Lifestyle, Musical Instruments, Sports, Tickets & Events: 1.2%
Books, Comics & Magazines, DVDs & Movies, Music: 1.2%
eBay Motors: 1.6%
Vehicle Parts & Acessories: 1.2%
Real Estate: 0.4%
All Other: 1.6%
*Cashback capped at the GBP equivalent of $550 on all purchases, except 'Business & Industrial' (capped at the GBP equivalent of $225), and eBay Motors and Real Estate (capped at the GBP equivalent of $100)
EE
Mobile broadband (sim only or monthly rolling plan): £12.50
Mobile broadband (tablet): £15
Mobile broadband device (18 or 24 month plan): £25
12 month SIM only plan, value under £13.99 per month: £20
12 month SIM only plan, value between £14 and £19.99 per month: £35
12 month SIM only plan, value over £20 per month: £50
24 month handset (good as new): £30
24 month handset plan, value under £31.98: £30
24 month handset plan, value between £31.99 and £47.98: £46
24 month handset plan, value over £47.99: £70
Watch: £25
Elfie
F. Hinds
Full price items: 6%
Sale price items: 4%
Feel
Annual subscription: £10
Monthly subscription: £5
Femme Luxe
New customers: Non-discounted sales 4%, Discounted sales 1%
Existing customers:  Non-discounted sales 2%, Discounted sales 1%
Footasylum
Full price items: 4%
Sale price items: 2%
Gillette
All purchases: 5%
Shave plan subscriptions: £5
Goldsmiths
Full price items: 5%
Sale price items: 2%
Graze
GreenBay
Groupon
Local (things to see, eat and do): 9%
Default: 6%
Halfords
All purchases (excluding Autocenter work/servicing/MOTs/tyres): 3%
Hamleys
Haven
All Off-peak season bookings: 5%
All Peak season bookings: 2.5%
Hawkers
Iceland
New customers: 3%
Existing customers: 1%
Jacamo
New customers: 5%
Existing customers: 1%
John Greed
New customers: 5% (Excluding Nomination products)
Just Park
New customers: 6%
Existing customers: 1.5%
Lacoste
Last Minute
Gift cards: 5%
Experiences: 4.8%
Hotels: 3.2%
Entertainment & Spa: 2.4%
Train and hotel package: 1.6%
Flights: 0.8%
Lunette
M & Co
Made
New customers: 5%
Existing customers: 5%
Magazines Direct
Majestic Wine
New customers: 4%
Existing customers: 1%
Make My Blinds
M and M Direct
New customers: 10%
Existing customers, order value under £50: 1%
Existing customers, order value between £50 and £75: 2%
Existing customers, order value over £75: 3%
Mamas & Papas
All purchases under £50: 2%
All purchases between £50 and £149.99: 3%
All purchases between £150 and £999.99: 4%
All purchases of £1,000+: 5%
ManoMano
MenKind
Full price items: 6.5%
Sale items: 5%
Mo Bro's
Moonpig
Morphy Richards
Music Magpie
Purchase: 3%
Tech item trade-in purchase: 2%
Media item trade-in purchase: 7%
Book item trade-in purchase: 3%
Lego trade-in purchase: 3%
Naked Wines
NCP
Car parking (pre-booked): 5%
Season ticket sales: 2%
Car parking (not pre-booked): 1%
New Look
New customers: 5%
Existing customers: 1%
Not On The High Street
o2
Mobile handset, £0 - £15 pay monthly plan: £20
Mobile handset, £15.01 - £24.99 pay monthly plan: £30
Mobile handset, £25 - £29.99 pay monthly plan: £40
Mobile handset, £30 - £34.99 pay monthly plan: £50
Mobile handset, £35 - £39.99 pay monthly plan: £70
Mobile handset, £40 - £44.99 pay monthly plan: £80
Mobile handset, £45+ pay monthly plan: £90 
Mobile SIM only, £0 - £9.99 pay monthly plan: £7.50
Mobile SIM only, £10 - £14.99 pay monthly plan: £20
Mobile SIM only, £15 - £19.99 pay monthly plan: £35
Mobile SIM only, £20 - £24.99 pay monthly plan: £45
Mobile SIM only, £25 - £29.99 pay monthly plan: £60
Mobile SIM only, £30+ pay monthly plan: £70
Tablet, 500MB pay monthly plan: £5
Tablet, 1GB pay monthly plan: £12
Tablet, 2GB pay monthly plan: £20
Tablet, 3GB pay monthly plan: £25
Tablet, 5GB/6GB pay monthly plan: £30
Tablet, 8GB+ pay monthly plan: £35
Mobile PAYG handset: 2%
Accessories: 3%
*New customers only
Oasis
New customers: 5%
Existing customers: 1%
Ocado
New customers: 3%
Existing customers (up to 5th shop): 1%
On the Beach
Flight: 1%
Hotel only: New customers 6% / Existing customers 1%
Holiday package: New customers 3.5% / Existing customers 1%
Online Golf
Opodo
Flights: 1.3%
Flights and Hotel: 3.5%
Car hire: 7%
Optimum Nutrition
Pacamask
Photobox
New customers: 5%
Existing customers: 1%
Pizza Hut
New customers: 4%
Existing customers: 1%
PostMyMeds Pharmacy
Red Letter Days
Ryman
All purchases (excluding tablets): 3%
Sandals
Schuh
Full price items: 3%
Sale price items: 2%
Scribbler
See Tickets
West End theatre: 3.75%
Regional theatre: 2%
Other: 1%
Simply Cook
Skoup
Slater Menswear
New customers: 4%
Existing customers: 3%
Sock Snob
Steel Series
Straight My Teeth
Swagger Home Furnishings
Tails.com
Tastecard
Gift: £2
Gift (6 months): £5
Standard monthly membership: £2
Standard monthly membership (6 months): £2
Standard annual membership: £3.50
Ted Baker
The Body Shop
New customers: 8%
Existing customers: 6%
The Healthy Mummy
Thread
New customers: 6%
Existing customers: 2%
Thorntons
T.M. Lewin
Toffs
Tom Tom
All non-downloadable purchases: 2%
Trainline
New customers: 3%
Existing customers: 0.5%
Transport for Wales
Under Armour
Vodafone
Superfast/Gigafast broadband: £50
Business mobile broadband: £40
24 month handset contract, monthly plan over £50: £70
24 month handset contract, monthly plan between £20 and £49.99: £50
24 month handset contract, monthly plan between £0 and £19.99: £25
SIM only standard bundle, monthly plan over £20: £50
SIM only standard bundle, monthly plan between £10.01 and £19.99: £40
SIM only standard bundle, monthly plan between £0 and £10: £15
Business SIM only standard bundle, monthly plan between £0 - £10: £20
SIM only, 30 day contracts: £10
Waggel
New dog policy: £50
New cat policy: £22
Warehouse
New customers: 5%
Existing customers: 1%
WatchNation
Waterstones
New customers: 4%
Existing customers: 1%
Whittard of Chelsea
New customers: 7%
Existing customers: 5%
Wickes
Wilko
Wise
Zavvi
Books, Clothing, Merchandise, Print: New customers 8% / Existing customers 4%
Toys: New customers 5% / Existing customers 3%
Entertainment (DVD, Blu-ray): New customers 3% / Existing customers 1%
Homeware, Other (CD, Health, Sports): New customers 2% / Existing customers 2%
Technology: New customers 0.5% / Existing customers 0.5%